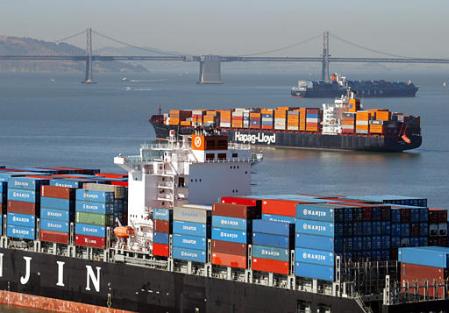 Asia-Europe ocean freight prices fall further
Headhaul spot rates from Shanghai down 3-4%, week on week, and down 9-16%, year on year, and 36% down compared to two years ago
Rates on Shanghai-Genoa dropped $32 to $1,537 per feu on 20 June, according to Drewry's assessment of the World Container Index, while rates on Shanghai-Rotterdam slumped $28 to $1,459 per feu last week.
Spot freight rates on the Asia-Europe trades are running at significant discounts versus both 2018 and 2017. Drewry noted, for example, that on 20 June Shanghai-Genoa and Shanghai-Rotterdam rates were down 11% and 9%, respectively, year-on-year. 
However, the latest numbers from Freightos suggest Asia-Europe rates are now lagging much further behind equivalent pricing during 2018. The digital marketplace recorded a basket of China-Europe prices at $1,289 per FEU last week, a 4% decline versus a week earlier but 16% lower than the $1,540 per FEU recorded in 2018. 
Rates last week were also 36% down compared to two years ago when pricing reached $1,977 per FEU in the third week of June 2017. 
"Supply continues to outstrip demand, as this lane bears the brunt of the 18,000+ TEU mega-vessel rollout," said Freightos.
Lines are now hoping a General Rate Increase announced for July 1 finds traction. For example, CMA CGM said its FAK [Freight All Kinds] Rates from Asian ports to all North European ports would be increased to $2,000 per feu on July 1 "until further notice but not beyond July 14". This followed the line's earlier announcement of rates of $1,700 per feu from June 16 until 30 June.
Asia-Europe capacity is "currently tight due to a number of blank sailings" although "southeast Asia services remain relatively open", said US forwarder Flexport.
On the transpacific, China-US West Coast and China-US East Coast prices dropped 2% and 4%, respectively, last week after carriers cancelled mooted June 15 General Rate Increases.
"Transpacific prices have been relatively stable since early April, but potential Trump tariffs are a looming shadow," said Eytan Buchman, CMO at Freightos. 
"China-US carrier rates are an interesting indication of the flagging imports due to tariffs. Europe-US FEU rates are 37% higher than 2018 but their transpacific counterparts are just 11% higher than last year."
LOJİPORT